Boulder Dash Game

Boulder Dash Treasure Pleasure
Boulder Dash Treasure Pleasure is a highly addictive game - new remake of the old Boulder Dash game. Download Boulder Dash Treasure Pleasure, play this addictive game for hours and have tons of fun!
The object of the Boulder Dash game is to score as many points as possible by collecting sparkles. For this you walk on a map from cave to cave and pick up enough sparkles so that the gate opens and you can exit the cave. Beware in the meantime because various enemies are hindering your task.
Boulder Dash Game Features
3 different worlds,
Better sound and graphics,
60 game levels,
22 additional tutorial levels,
Walk on a map to enter the caves,
Track your personal high scores.
Free Download Boulder Dash game
Click here to free download Boulder Dash Treasure Pleasure
(5 Mb)
Boulder Dash Screenshots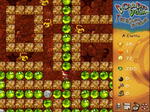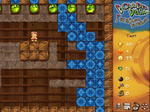 Player Reviews for Boulder Dash Treasure Pleasure | Show All Reviews [

1

]
Average Rating: out of 5 5
boulderdash comment

by

john hillman

(16 delamere drive kawerau)

This is an awesome for anyone born in the days of Commodore 64.