Aba Daba
ver. 1.31
Copyright © 2002 Astatix Software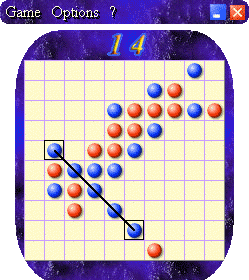 Contents
Game Review
Aba Daba is modern implementation of the ancient logical game Gomoku, also known as 5 in a row or Noughts and Crosses.
Game Rules
Aba Daba is a five-in-a-row tic tac toe.
Players (human player and the computer) take turns placing their marks on the cells of a grid.
You win when you place 5 of your marks in a row of connected squares. The winning row may be horizontal, vertical, or diagonal.
Playing the Game
To start a new game click New on the Game menu or right-click on the game filed. You can also press F2 on the keyboard.
To make your move just left-click on empty cell in the game field.
Hint: Use Esc key on the keyboard to quick minimize the game window into the task bar.
Supported Languages
Arabic
Breton
Bulgarian
Catalan
Chinese (GB)
Dutch
English
French
Galician
German
Hungarian
Italian
Polish
Portuguese (Brazilian)
Romanian
Spanish
Turkish
How to translate this game to your language read in the game's help file.
What's New
ver.1.31
Added Arabic, Breton, Simplified Chinese, Galego and Spanish languages
Help updated
ver.1.3
Fixed minor bugs
Added Polish and Portuguese languages
ver.1.2
Added Bulgarian, Catalan and Dutch languages
Fixed errors in French Language
Fixed error with repaint
Help updated
Cosmetic changes
ver.1.1
Added German and Ukrainian languages
Languages' list sorted alphabetically
Added game's banners
Help updated
Cosmetic changes
Distribution
Aba Daba v.1.31 is FREEWARE game. You can freely distribute it.
Technical support
If you have any problems with using Aba Daba game contact us for technical support please.
Any comments, ideas, bug reports are always welcome.
Thanks
The following people deserve our special thanks for providing vital help:

Daniel Paquette for French translation
Evgeni Ivanov for Bulgarian translation
Jozsef Tamas Herczeg for Hungarian translation, www.soft-trans.hu
Andriy Slezenko for Ukrainian translation, http://slezenko.com
Thorsten Langenbrunner for German translation
Mega for Dutch translation
Pau Bosch i Crespo for Catalan translation
Daniel Abramowicz (RPGod) for Portuguese translation
Filip Godlewski for Polish translation
Stelian Jica for Romanian language
YickiStar for Simplified Chinese translation
Xose Anton Vicente Rodriguez for Galego translation
Alexis Checa for Spanish translation
Oktay KUMAS for Turkish
Said Bakr for Arabic language
Player Reviews for Aba Daba | Show All Reviews [

1

]
Average Rating: out of 5 5
Great game
by
Andrew Myers
I remember playing in 2005, and I love it. Bit outdated now but still have fun with it.