Dragon Jumper
v.1.65
Dragon Jumper - Game Review
Dragon Jumper is a new Frogger-like game. Each level you play a little Dragon who lives in a magic lake. The lake is dangerous, but our little fellow loves fruits and diamonds. He loves them so much that even the most dangerous place in the world can not scary our fellow away. He is good in jumping and whenever Dragon sees a sparkling thing somewhere in the lake he immediately starts jumping from one spot of ground to another, just to get it.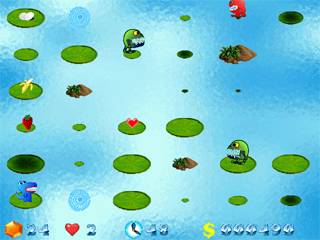 To finish each level you must get a big orange diamond. But it is not so easy to get the diamond. Dragon must jump from one place of the lake to another to catch it. Dragon can jump on the small islands and leaves of the lily pads. But lily pads are not stable; they go up and down all the time. Some of the lily pads are larger, others are smaller, and some moves faster, others slower. Unfortunately, our little fellow can't swim; therefore he sinks if he jumps into the water.
The jumps on the lily pads require a lot of energy; therefore Dragon should eat every turn. Dragon is always very hungry and his energy decreases gradually each second. If Dragon doesn't eat enough food for the long time, he dies. Dragon can eat fruits, vegetables, meat, sweets and other foods. Each eaten food adds a portion of energy to the Dragon. Some of the food gives more energy to the Dragon, others give the less. Dragon must eat as much as possible to feel good himself.
Keep in mind that your time is limited in each level. So hurry up, because all objects will start to move down into the water when time is up.
When Dragon gets the diamond, he goes to the next level to start a new fascinating adventure.
Be afraid of the evil monsters that also jump on the lake looking for the food. But they don't eat fruits and sweets because they like to eat the little dragons! Monsters want to catch and eat you. They are fast and cruel. In order to live a long life try to be quick and smart.
The game has 3 different difficulty levels: Easy, Normal and Hard. If it is too hard to play in the Normal difficulty you should try to play in the Easy level. It is really easier. Easy difficulty level is recommended for kids. To change the current difficulty level you should select item "Options" in the game menu and then choose appropriate difficulty.
The easier difficulty the more foods and bonuses you can find in the level, the more energy gives each eaten food. But the harder difficulty the more score you can earn. The more you eat the more score you earn.
You can also pick up some items to make your journey easy. These items are called "bonuses". You can get the following "bonuses":
Pulsatile Heart - gives you one extra life;
Arrow Up - all visible lily pads start to grow up;
Red Stars' Ring - Transforms a part of the visible lily pads to the static islands;
Colored Bubbles - Food appears on the each island and lily pad;
Sand-glass - Gives 5 additional seconds of the time.
Game Features
Nice graphics
Very fun gameplay
30 exciting levels
Joystick (gamepad) support
Surround sound
Beautiful music
Different levels of difficulty
Non violent game for all ages
System Requirements
Microsoft Windows 95/98/2000/Me/XP/2003/Vista/7/8/8.1/10
Pentium 133 or faster
Video card with 640x480x16 mode support
DirectX 6.0 or higher
Free Download Dragon Jumper

Click here to free download Dragon Jumper game
Registration Benefits
Order Dragon Jumper NOW, and Receive All of the Following:
You can play Dragon Jumper as long as you wish
Text Unregistered version will disappeared
You will gain access to all 30 levels
New objects, fruits, food, jewels, prizes, bonuses, monsters will appear
Free upgrade to future versions of Dragon Jumper
Ability to place your scores in the Hall of Fame
Technical support and assistance
You'll also be included into our mail list and will be notified about valuable changes in Dragon Jumper such as adding new features to the gameplay, bug fixes and new levels
Notification on our new games issued and other our news of Astatix Software
How To Order
Ordering Dragon Jumper is fast and easy. We accept payment by credit card, PayPal, check, or money order.
Click here to order the full version of Dragon Jumper!
Dragon Jumper's Awards






Copyright © 2002-2021 by Astatix Software. All rights reserved.
---
Player Reviews

We have no player reviews for Dragon Jumper yet.