Poker Superstars 3

Are you ready for the next challenge? Poker Superstars III Gold Chip Challenge raises the stakes with new superstars, a brand new challenge play mode and new gold chips to win for great plays. It is the game that is packed with challenge. Be one of the Poker Superstars by importing your photo in to the game! The Superstars are up for the new challenge, are you?

Game Features
Brand New Game Mode, Challenges!
New Superstars! Take on 12 masters of the game.
Gold Chips! Collect them for great plays. Can you win them all?
Artificial intelligence system that has taught itself how to play, and how to win.
You get to play the dynamic and competitive Big Tournament right from the TV show.
Import Your Photo! Be the Poker Superstar you know you are and see yourself right in the game!
Interactive Opponent Pictures! Now you get to see the Superstars smile devilishly when they beat you, as well as scowl when you beat them!
Amateur or Superstars! Two different levels of challenge let you tune the game to the play level you want.
The game will track all your winnings, flops seen %, pots won % and best hands. So you'll be able to see what kind of poker player you are.
Top Ten Lists! Track your top winnings, top pots and top hands.
Free download Poker Superstars 3
17.8 Mb
Get the full version of Poker Superstars 3
$6.99
Game Screenshots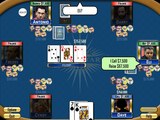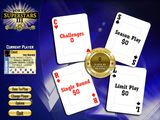 System Requirements:
OS: Windows 2000/XP/Vista/7
CPU: 600 MHz
RAM: 128 MB
Player Reviews

We have no player reviews for Poker Superstars 3 yet.