SeaWar - Battleship Game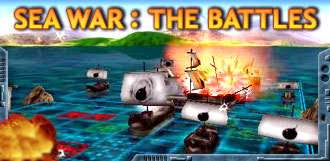 Battleship Game
Lets sink into the real Sea War environment!
Sea War: The Battleship 2 is the hottest and coolest battleship game ever made. It looks like beautiful toy and leaves desire to play again and again. Fine tuned ships sway among smoothly moving sea waves. Outburst at left, ahead and sudden bright explosion in the middle of ship. A puffs of smoke and dead ship-frame at the end - it's the greatest!
Sea War: The Battleship features four episodes, networked play, embedded chat and unforgettable gameplay. Definitely worth a try!
Battleship Game Screenshots




Battleship Game Features
Exceptional 3D Sea War game for Windows 9x/2K/XP
Ancient, standard and two cosmic episodes, 4 naval fleets
Play against computer or partner over Internet, LAN or on the same computer
Chat as you play
Free Download SeaWar, Download Battleship Game
Free download Sea War The Battleship 2
(3.5 Mb)
Get SeaWar Full Version
Please, download the free version first to enjoy the full version of Sea War game.
Player Reviews

We have no player reviews for SeaWar: The Battles 2 yet.