WinWget+
GUI for Wget
FREEWARE
Description
WinWget+ is a freeware GUI frontend for GNU Wget (non-interactive download utility).
Current version is an unofficial version (alternative branch) of the original WinWGet v.0.2b. You can find official version with screenshots and documentation here. Original version seems to be unsupported for more than 10+ years, therefore I've decided to release my own version with some fixes and improvements.
WinWget is a 32-bit Windows application. It works on 64-bit versions of Windows, but some minor features may not work. Also it designed as a standalone application: all settings stored in the same directory in a single file. You can run this portable downloader from any folder, even from USB flash drive.
But I don't guarantee that I'll support current branch, however already several builds were released this year. All contact info and versions history can be found in the downloaded file.
WinWget is absolutely free software and doesn't inculde any ads.
WinWget Screenshots
Main Window of WinWget (GUI for GNU Wget).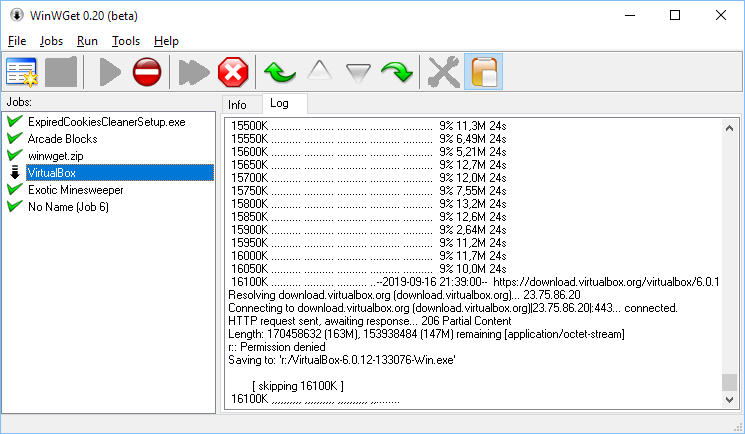 Settings Window (before downloading file). [Add/edit job]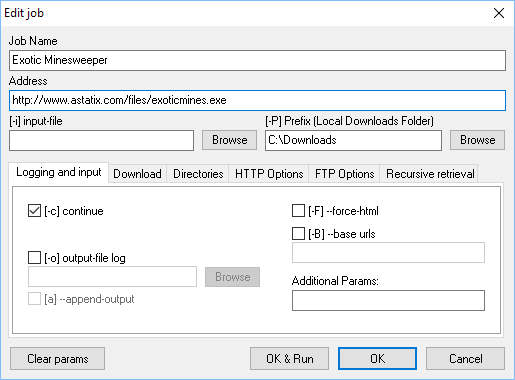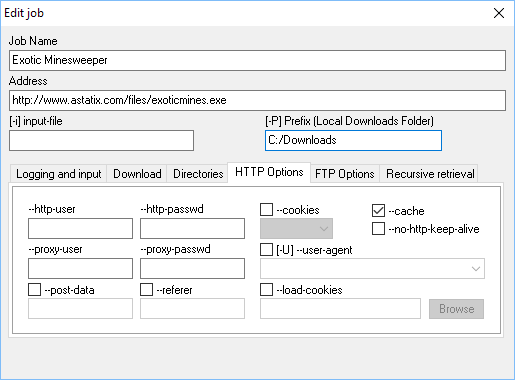 Global Options. [Proxy settings, downloads path, fonts, etc.]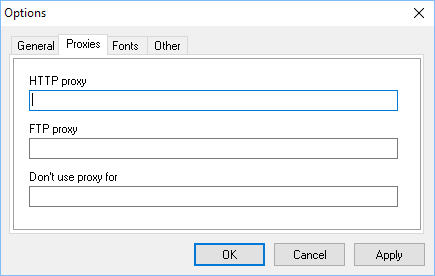 Application title shows "WinWGet 0.20 (beta)", but actually it is updated version WinWGet+. I decided to not change original version info, because this software mostly the bugfix fork of original WinWget. Current version number you can see in the readme.txt file.
System Requirements
Windows 9x/Me/NT/2000/XP/2003/Vista/7/8/8.1/10
Wget
WinWget Download
Please, do not link to the downloadable file on your sites, link only to this page; this is only one that we can ask you for our work at this time.

Free download WinWget+ v.2020.04.28 (418 Kb) (No installer. Wget is not included) WinWget is a standalone software without installer. It stores all settings in the own folder, so you install it even on the USB flash drive.
Download Wget for Windows
If you need Wget for Windows, you can download it here (v. 1.11.4).
The latest version of the wget for Windows you can find at the 3rd party site (versions from 1.13 to 1.20.3).
Feedback
If you have any problems, suggestions, comments, or you found a bug in this utility, you can send a message to us. See contact info in the readme.txt file.




Try also: Expired Cookies Cleaner