Arcade Lines

Arcade Lines is an extremely addictive puzzle game with brilliant graphics, popular pulsating music and a great variety of different game modes. Arcade Lines does not require fast reflexes and is even easy for kids to learn, but requires enough strategy to keep you hooked for hours.
Arcade Lines game is played on a board that fills with multi-colored pieces as the game progresses. You have a very simple objective: Stop the board from filling up by forming rows of 5 or more pieces of the same color. The rows will disappear, leaving more space for new pieces.
Arcade Lines features 6 different game modes, making sure that you will find exactly the difficulty level you want. In addition, you can easily create your own custom game mode by choosing from the numerous options available. And there is also a time-based game mode for those seeking extra excitement!
Arcade Lines Download
Free Download Arcade Lines game (2.6 Mb)

Get Full Version of Arcade Lines Game
Click here to get Arcade Lines Full Version
Lines Game Screenshots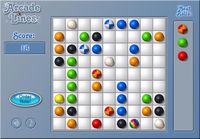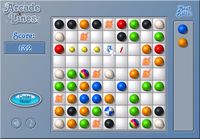 System Requirements:
Windows 9x/ME/2000/XP/Vista/7 or better
Player Reviews for Arcade Lines | Show All Reviews [

1

]
Average Rating: out of 5 5
The game
by
samiya
My sis is so in love with the game, but i wanted to know what is the music called ? eaning what is the name of the music that is used in the game ??