Double Digger
Download Digger Game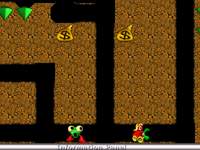 Digger Adventures game is a single/multiplayer reincarnation of the classic Digger concept. In the Digger Adventures (previously known as Double Digger game), the players guide a small bulldozer through underground levels, in the process gathering gems, avoiding baddies and freeing gold bags for points or for dropping them on enemies' heads. Innovations on the original concept include a variety of skins for the central character, configurable playing speeds, an auto-save feature, a special difficulty level for kids, multiple campaigns containing 30 levels each, undiggable stones, new bonuses (a cherry enabling Digger to eat enemies) and more. The action is viewed from a two-dimensional side perspective, a la Dig Dug and other classic arcade games.
Digger Download
Click here to free download Double Digger game
Get Double Digger full version
Click here to get full version of Digger Adventures
Player Reviews

We have no player reviews for Digger Adventures yet.