Luxor
Free Download Luxor Game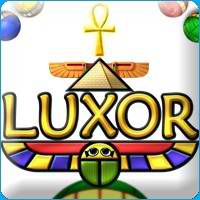 Luxor is an action-puzzle game that takes you on a thrilling adventure across the lands of Ancient Egypt. Battle Set and his evil minions across 88 mind-blowing levels, unleashing the awesome powers of Isis with various falling power-up talismans, such as explosive Fireballs and thundering Lightning Bolts.
Filled with excitement, adventure, and tons of explosive action, there is only one question you must ask yourself: Can you thwart the diabolical plans of a god and save Egypt?
Luxor Download
Here you can free download Luxor - new action-puzzle game.
Free download Luxor game
(11 Mb)
Luxor Game Screenshots
Click images to enlarge
System Requirements:
OS: Windows 98/Me/2000/XP/Vista/7
Processor: 300 Mhz
Memory: 128 MB
DirectX 7 or better
Here you can free download original Luxor game. Want to play it right now? Just download Luxor - new remake of popular Zuma game!
Player Reviews for Luxor | Show All Reviews [

5

]
Average Rating: out of 5 5
My favorite game

by

Gail Brown

(614 Epernay Place, Little Rock, AR)

I am totally addicted to this game. I keep redoing level 13. Sometimes I beat it and more often I don't. I hate having to go back to the first round of level 13 or any level. I would like to just repeat the game I messed up on and go from there.
Excellent game

by

Guada Olano

(Quezon City, Philippines) Excellent game even for one like me a senior or elderly. 75 years old.
Yes, it is helping me with my motor nerves and to be skillful.
PERFECT

by

ONYEKA

(Portharcourt)

IT IS VERY GOOD and is a nice game to play at leisure time at work place.
luxor game

by

shsho

(kuwait)

Very nice game! I like too much. Thank you.
Grandma SUE!!

by

San

(15 Leopard Tree Crs., Sinnamon Park)

I have been playing Luxor Type Games since 30/35 years and I recommend the games to all young & old!! It is so addictive and I love them all!!!