Puzzle Inlay
Triangle Solving Puzzle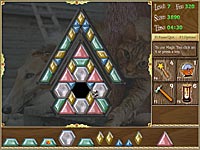 Square Away Puzzle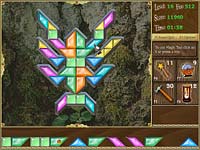 Round World Puzzle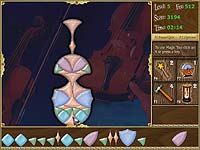 Inlay pictures with gems in this addictive puzzle game. You are offered over 100 picture puzzles to inlay with gems. You can select one of the three missions. Use 18 varieties of gems, magic tools and bonuses.
The objective of the Puzzle Inlay game is to fill the picture with gems that are delivered by the conveyor. You must be quick, because if the gem storage overfills, you lose. Use the magic tools: hammer, magic wand, transformer and sand-glass. As you move from one level to another, their difficulty is gradually increasing.
The rules of the game are very simple and it takes just a few minutes to understand how to play it.
A thought-provoking mosaic of delight, this puzzler will stimulate your mind and arouse your creativity. Simple to play, but a challenge to master, Puzzle Inlay is perfect for the entire family.
Puzzle Inlay Game Features
Over 100 amazing levels
Over 15 varieties of gems
3 missions with breathtaking hi-color animated graphics
Magic tools and bonuses
Authors sound tracks
Increasing speed and difficulty level
High scores
Puzzle Inlay Download
Click here to free download Puzzle Inlay game
Get Full Version of Puzzle Inlay
Please, download Puzzle Inlay for free to get the full version.
Player Reviews

We have no player reviews for Puzzle Inlay yet.