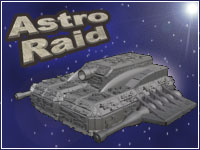 AstroRaid is a retro style vertical scrolling space shooter with many enemies, weapons, and bonuses that will glue you to your computer for a few weeks. The game is just as addicting, as it is challenging. Shooting down the darn UFOs is not as easy as it seems at first. You will have to face alien battleships and need a considerable luck to survive.
Hordes of UFOs and alien ships are getting more and more fierce as you approach the Earth to save its inhabitant's. To survive just keep your thumb close to the Fire button!
To get this arcade space shooter you need to mix such retro PC games as Space Invaders and Galaga, then shake with twist of Asteroids game.