Tetris Download
Crazy Tet RX
ver. 2.3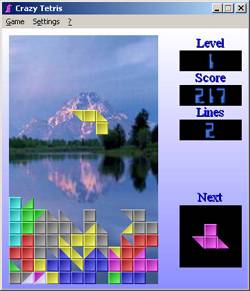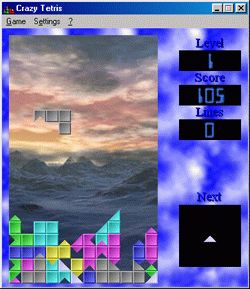 Crazy Tetris Game
Crazy Tet RX is an unusual clone of the immortal Tetris game. In this Tetris game blocks consist not only of squares, but of triangles too.

Crazy Tetris includes 6 absolutely different variations of the famous game with falling blocks with twist:

Simple
Classic Tetris
Pentix
Triangularis
Mutatix
Crazy
Types of the game are listed from the simplest to the hardest. Even small kids can play in the Simple Tetris mode, but playing Mutatix and Crazy is for extreme Tetris players in general.
You will find friendly interface, nice sounds, music, large High scores table and World Records Table in this Tetris game. Also before writing your name to High Scores you can choose a pleased face from the list of more than 200 funny faces.
The goal of the Tetris game is to maximize your score by placing the falling blocks or triangles into lines. Every assembled line that has disappeared increases your score.
If you are a Tetris fan, you should download Crazy Tetris game! Free download Tetris and enjoy playing it for hours and even days! Tetris is a really good game for having some rest after work!
Tetris Download
Do you want to play Crazy Tetris? Here you can free download Tetris for Windows. To download this action puzzle game click on the link below:
Free Download Crazy Tet RX game! (the latest official version v.2.3)

Supported Tetris Languages
Crazy Tetris game has multilingual interface. Supported Languages: Bulgarian, Catalan, Chinese, Dutch, English, French, German, Greek, Hungarian, Portuguese (Brazilian), Russian, Spanish, Swedish, Ukrainian.

System Requirements
Pentium 166 or better
Operating system: Windows 95/98/Me/NT4/2000/XP/Vista/7/8/8.1/10
Video card with high color mode

Distribution
The SHAREWARE version of the Crazy Tetris is free distributed.
You may free download and use the SHAREWARE version free of charge for 30 days. If after 30 days you would like to continue using Crazy Tetris game, then you should register Tetris.


Copyright © 1999-2019 Astatix Software
Player Reviews

We have no player reviews for Crazy Tetris yet.